Kumho Tire is a South Korean company founded in the early 60s as a small company with a daily production capacity of 20 tires. The company grew fast and acquired certificates in the USA and Europe. In a few years, it became a global industrial conglomerate with manufacturing plants in South Korea, China, the USA, and Vietnam. Besides, it has research and development centers in South Korea, the USA, England, Germany, and China.
In the 2000s, the brand developed strategic alliances with high-end vehicle manufacturers and became involved in motorsports. That move made their products popular among car enthusiasts who, until then, didn't consider the brand suitable for high-end and performance applications.
Nowadays, Kumho has a wide range of tires for passenger cars, SUVs, light trucks, buses, and even aircraft. However, not everything is sunshine and rainbows, Kumho, like other tire manufacturers, has faced its share of issues and recalls over the years, and that's what we will focus on in this article.
Kumho Tire has faced many tire-related issues since the mid-2000s, with a number of its products being subject to high rates of failure reports and recalls.
While not all of these issues have resulted in accidents, any problem with a tire can cause serious harm and must be promptly addressed. Despite some fluctuations over time, it appears that Kumho's quality issues have not been fully resolved, and reports of problems with their tires continue to be a concern.
Next, we will tell you about the most common problems with these tires, the dangers implied, and what to expect of Kumho tires in the present.
Kumho Tire Problem List
Some of the issues reported by customers include:
1. Tread Separation
The tread is the part of the tire that is in contact with the road, generates traction or grip, and makes vehicles stay safely on the road. You can have a powerful engine, efficient brakes and be a great driver, but without traction, you won't have control over your vehicle.
Tire tread separation happens when the tread literally separates from the tire, which is extremely dangerous. Modern tires use steel-belted tire treads, attaching the tread to the steel tire casing, which should make tread separation almost impossible; however, many Kumho tires experienced this problem due to material flaws or manufacturing flaws.
Tread separation usually happens at high speeds, and it can make the driver lose control of the vehicle, which can cause severe accidents. Sometimes, the separated tread sticks in the vehicle's undercarriage, which can lead to a sudden and uncontrolled stop.
Although tread separation is sometimes impossible to predict, regular tire checkups can help detect symptoms like:
Uneven tread wear.
Bulges or blisters on the tire's sidewall.
Crackings in the tire's sidewall.
Premature tire wear.
Shaking and vibration after the wheel has been balanced.
2. Sidewall Bulges
Sidewall bulges or bubbles are a sign that air escapes from the inner liner of the tire to the outermost surface of the tire as a consequence of irreversible damage.
Tires have many components, such as inner liners, belts, sidewalls, body plies, beads, and treads. On modern tubeless tires, the inner liner keeps the air between the tire and the rim, acting as an air chamber. Sidewall bulges are usually a result of impact damage to the tire; however, they also can be a result of manufacturing defects.
This problem isn't as bad as thread separation; however, it requires immediate attention as bulges can suddenly burst, causing a tire blowout.
3. Tread Bulges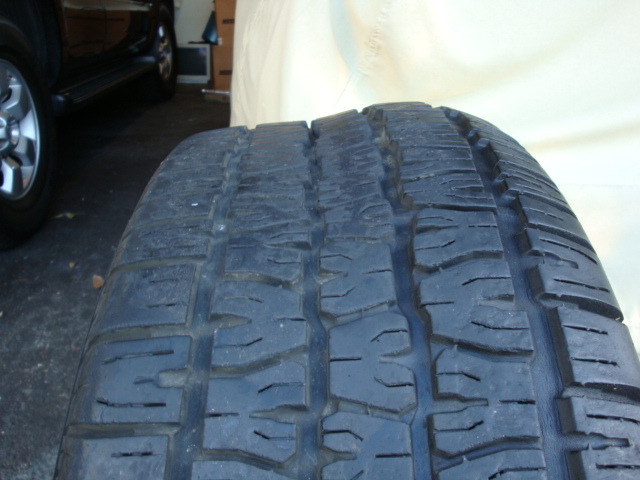 These are bulges on the tire's tread caused by a broken belt (the rubber-coated steel layers that sit between the tread and the body pliers). They are as dangerous as sidewall bulges and can lead to a tire blowout or tread separation.
4. Blowouts
There are several reports from Kumho Tire consumers who experienced blowouts or bursts.
A blowout happens when all the compressed air inside a tire suddenly escapes. They are a direct consequence of tires' structural failure, which can be caused by accidents like a puncture, but in this case, it was caused by manufacturing defects.
Tire blowouts are extremely dangerous, especially at high speeds, and are one of the main causes of accidents, from collisions to spin-outs and rollovers.
Although there isn't a way to tell if a tire has manufacturing problems, you can prevent blowouts by:
Keeping your tires properly inflated.
Avoiding potholes and hitting curbs.
Regularly inspecting your tires for bulges, cracks, and punctures.
Avoid using aged, worn tires.
5. Poor Traction
Some Kumho tires have been criticized for poor traction, especially in wet conditions. For example, many 2011 BMW users complained about their vehicles' low performance on wet roads, blaming the tires that came with them.
These units had been fitted from the factory with Kumho tires. The problem seems to have been solved by the company in 2015, when they started using a new compound for BMW tires. However, traction problems were a recurring complaint among Kumho's users until 2019.
More Details About Known Kumho Tire Problems
Over the years, Kumho's products had quality issues due to financial troubles, labor disputes, and quality control issues. In 2009, the company had to face several lawsuits and recall thousands of tires. These issues affected the brand's reputation.
In 2011 a China Central Television news program reported serious irregularities in Kumho Tire's production process and accused the company of using excessive amounts of recycled rubber to reduce costs, which allegedly was the reason for the tires' failure.
After the show was broadcast, Kumho Tires immediately released a statement denying the accusations; however, almost a week later, Kumho's top executives released an official statement on that same television channel, apologizing and issuing a recall of all the affected products.
That same year, Hyundai Motor and its affiliate, Kia Motors, had to recall 70,795 cars made at their China plants to replace faulty tires made by Kumho.
In 2017, the Chinese tire manufacturer Doublestar purchased Kumho Tire's majority stake, and in 2018, after the deal was finalized, the company retired from Kumho Asiana Group.
In 2019 the recall numbers were still high, and the new management didn't seem to be able to solve the brand's reliability. The tire recall numbers and user complaints are substantially high compared with other brands, even for a company that manufactures about 70 million tires a year.
Kumho's Most Reported Models In The USA Over The Years:
This list is made with information gathered from public records from NHTSA (National Highway Traffic Safety Administration). This information is about products sold in the USA and is only for reference.
Year
Models (In Several Sizes)
2009
Kumho Mohave A/T
Kumho Solus KH25

Kumho Solus KR21

Kumho Ecsta ASK

2010
Kumho Solus KH25
2011
Kumho Solus KH25
2012
Kumho Solus KH25
2013
Kumho Solus KH25
2014
Kumho Solus KH25

Kumho Road Venture APT

2015
N/D
2016
Kumho Solus KH16
2017
Kumho Road Venture MT51
2018
Kumho Ecsta 4X II

Kumho Road Venture MT51

Kumho Solus KH16
Kumho Solus KH25
Kumho Solus KR21
Kumho Solus TA11

2019
Kumho Ecsta 4X II
2020
No information due to Covid-19
2021
Kumho Solus TA31
2022
N/D
2023
This year no recalls have been announced so far.
For more information about Kumho consumers' reports, check this link.
Final Words
Most of Kumo's most problematic models have been discontinued, and despite Kumho Tire faced some hard challenges again in 2021 due to several problems, including a massive recall, production and supply chain issues, financial difficulties, and a trade dispute, the company is still thriving and offers affordable but competitive tires.
The company's future remains uncertain, but if we focus on the last year, it seems that Kumho Tire has taken big steps to address quality issues, has implemented stricter quality control processes, and is working to recover the trust of its customers.
Automakers still rely on them; currently, over 35 brands are releasing their vehicles fitting Kumho tires, and they have won several awards related to performance and durability.
Overall, if you are on a budget or if you don't want to spend a fortune on a set of tires, Kumho tires could be a great choice, but you have to do some research not only to choose a model that best fits your vehicle's specs but also read reviews from users and specialized press, and find in consumers' associations if there are any complaints about the model you would like to purchase for your vehicle.
You should also consider factors like your driving style, the weather conditions of your area, and the roads you usually drive on. Kumho usually has great high-performance tires at prices below the average and decent off-road and daily-use tires at attractive prices.
You should check your tires often, rotate them frequently, avoid using them with low pressure, etc.; it's an excellent way to prevent potential problems and accidents. After all, your tires are the only point of contact between your car, your family, and the road, no matter which brand you choose.
Related articles:
Kumho Vs Hankook: which tire is better? -[Compared]
Does Walmart Have Nitrogen For Tires? Yes! [Explained]