In this new tire comparison, I will tell you all about of you need to know about two popular all-season tires for passenger cars, SUVs, crossovers, and EVs. Both models are relatively new and have features that make them worth considering when the time to change your tires comes. Let's take a look and see what model is best for you.
BF Goodrich Advantage Control Tire Line
BF Goodrich released this model in 2021 to offer its consumers a modern all-season tire made with improved materials and technologies and matching or beating its competitors' products.
Silica and other compounds were added to improve the tire's grip on wet paved roads and other difficult driving conditions. To improve wet performance even more, BF Goodrich applied its patented Aqua-Flume Technology to these tires.
This technology consists of a contoured groove network on the thread pattern. These grooves help evacuate water away from the tire's contact patch, reducing the risk of hydroplaning and improving wet weather traction and stability.
The tires also have sidewalls stabilizers to improve ride quality and control. Besides, the American tire manufacturer, now part of Michelin's conglomerate, developed these tires to be silent and long-lasting.
Michelin Defender 2 Tire Line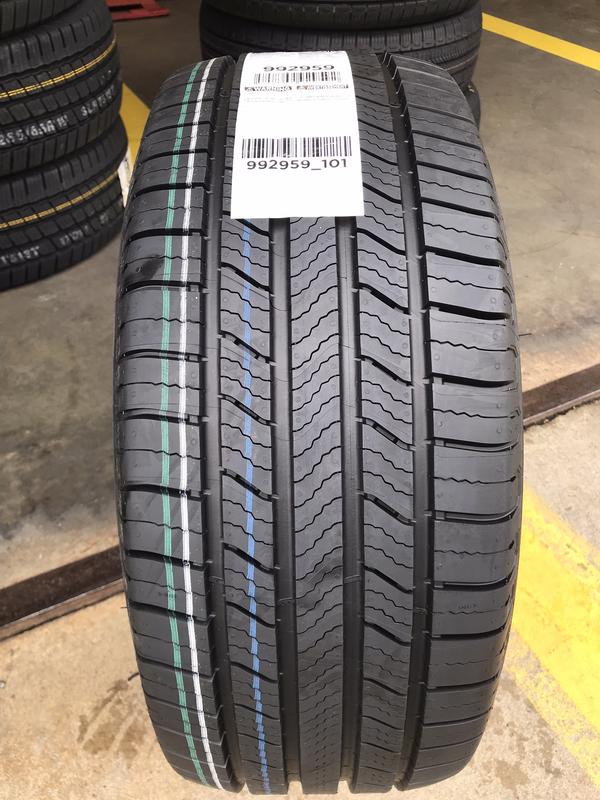 The Michelin Defender 2 is the renewed version of the Michelin Defender T+H, which is being discontinued. Michelin doesn't discontinue tires from one day to the other; they keep making old models for a while to allow users of that model who may need a replacement to get it without problems.
That's why it will take a while until the old Defender T+H disappears from the market. This is why I chose the Defender 2 tires, the improved and newest version of the T+H, for this comparison.
As the T+H, the Defender2 are long-lasting tires made to provide efficient traction in all weathers, including some snow, and have been conceived as reliable and affordable tires but with Michelin's quality seal. They have circumferential grooves similar to their BF Goodrich counterparts designed to prevent hydroplaning and ensure great wet handling.
Let's Take a Deeper Look At The Contenders
BF Goodrich Advantage Control
These all-season tires are designed to be affordable, durable, and multi-purpose. Usually, tires like these are made of hard compounds that affect performance, ride comfort, and noise reduction. However, compared with other tires in this price range, BF Goodrich Advantage Control tires are surprisingly good, thanks to the brand's development of new technologies and R&D.
When BF Goodrich released these tires, they stated they wanted to deliver "dependable all-season traction". Besides, they promised these tires would offer short braking distances, comfort, quietness, and low noise without compromising the tires' long tread life.
To achieve all this, BG Goodrich added a generous amount of silica to the compound used to make the tread. This material is used on winter tires and provides a great grip on wet and slippery roads. The tread has been designed to preserve its flexibility at hot and cold temperatures, ensuring the tire always delivers good traction.
According to the manufacturer, these tires have a symmetric tread pattern that has been designed to provide a comfortable and quiet ride. Besides, BFGoodrich claims that the tread design has been computer optimized to achieve even tread wear, which results in a longer tire life.
If we add the Aqua Flume Technology and the G-Wedge stabilizers to the equation, the result should be a high-quality tire capable of keeping the vehicle steady even when driving fast or braking hard and, thanks to its water displacement design, it should perform well in wet conditions.
Last but not least, BF Goodrich uses a two-ply polyester casing, two solid steel belts, and nylon reinforcements to preserve the tires' integrity at high speeds.
Michelin Defender2
The previous version of Defender2 tires (T+H) used an asymmetrical tread pattern. For this renewed version, Michelin returned to the classic symmetrical design used on most all-season, multi-purpose tires. The grooves on the tread surface have been increased in this model for an enhanced grip on all kinds of surfaces. Besides, the new design expels water from the tread surface more efficiently, providing better traction in wet conditions.
The compound has also been updated and has a good amount of silica to make the tires more flexible and provide great traction in all weather.
Michelin made this model stronger than its predecessor without affecting its performance and riding comfort. The tires' sipe blocks have been designed to provide more biting edges, increasing traction and stability. The sipe blocks have been designed using Michelin's SipeLock technology. This means they are linked, creating a network carefully distributed to reduce the noise and vibrations generated caused by the tires' friction with the road. Michelin designed this model using their patented PIANO technology (Pressure Influence on Acoustic Noise Optimization).
These tires also have a reinforced double steel belt as their BF Goodrich counterparts, covered by polyamide, making them safe and durable even when driving at high speed.
Available Sizes
BF Goodrich offers their Advantage Control tires from 14 to 20 inches, from 185/65 R14 to 245/50 R20, while Michelin offers their Defender 2 from 16 to 20 inches, from 2-5/55 R16 to 245/50 R20. BF Goodrich offers more variety and sizes than Michelin.
Performance Comparison
BF Goodrich Advantage Control
All-season tires usually are harder than summer or high-performance tires, which makes them lose grip compared with softer tires. However, the BF Goodrich Advantage Control delivers excellent traction thanks to its tread design and the numerous notches distributed all over it that add extra traction.
These tires offer good performance on dry roads and decent cornering thanks to their stiff sidewalls fit by g-wedge stabilizers, and the compound responds well when braking on hot, dry pavement. The tread design makes them safe to drive at high speeds, helping the vehicle to stay in contact with the road at all times.
Thanks to their compound rich in silica and the Aqua-Flume Technology, these tires have a great performance on wet surfaces. Aquaplaning is not a concern when using them and, in the wet braking department, these tires have one of the shortest braking distances compared with tires of the same and higher tiers. They evacuate water very efficiently, ensuring that the tread has good and constant contact between them and the road. They also have an outstanding performance while driving under heavy rain as long as you drive safely, and remember that these are not high-performance tires.
These tires, like most models in their category, offer decent traction in light snow. Mild snowy roads have a friction coefficient similar to wet roads, and these tires behave almost as well on mild snowy roads as they do on wet roads.
However, when it comes to frozen roads or areas where you have to deal with deep snow and extremely low temperatures, you should use snow chains or winter tires. This model wasn't conceived for being used in such conditions, and it's dangerous to ride your vehicle with these tires.
Considering they are all-season tires, the BG Goodrich Advantage Control provides good ride quality. Even when they don't have the outstanding ride quality of grand touring tires, these tires absorb most of the road imperfections and slight bumps. Besides, these tires obtained a 10/10 score on the NVH (Noise Vibration Hardness) tests, which means they are very quiet tires, which helps to make the riding experience even better. Overall, these tires are great for providing a comfortable and pleasant ride without having to break your wallet.
Pros And Cons
Pros
Outstanding traction, handling, and braking in wet conditions.
Good dry performance.
Tough and durable.
Affordable.
Smooth and quiet.
Cons
Not suitable for ice or heavy snow.
Michelin Defender2
These tires have excellent dry performance. At low and medium speeds, they behave like superior-tier tires. At high speeds, on the highway, for example, they help the vehicle to handle well and have superb behavior when cornering. Dry braking distances are surprisingly short for all-season tires.
Overall, these tires have a better dry performance than the BF Goodrich Advantage Control.
The Michelin Defender2 has outstanding aquaplaning resistance and excellent wet performance. Braking distances are short, and their designs provide excellent grip when cornering at reasonable speeds. They allow extremely well handling, even while driving on flooded surfaces or under heavy rain. I could say that in this department, there is a tie between the Goodrich Advantage Control and these tires.
Unfortunately, these tires don't perform better than their BF Goodrich counterparts. They are ok for mild snow-covered roads, but they are not recommended at all for use on extremely frozen roads or surfaces with thick layers of snow.
Michelin is worldwide recognized for their product's riding comfort and quietness, and the Defender2 is no exception. The ride quality is superb, and the road noise is super low on every kind of road, including smooth paved highways and gravel secondary roads.
Pros and Cons
Pros
Outstanding traction, handling, and braking in wet conditions.
Great dry performance.
Smooth and quiet.
Tough and durable.
Warranty.
Cons
Not suitable for ice or heavy snow.
Pricey.
Comparative Performance Chart
BF Goodrich Advantage Control
Michelin Defender2
Overall Performance
90%
89%
Dry
94%
95%
Wet
89%
90%
Winter/Snow
87%
82%
Comfort
89%
90%
Noise
87%
85%
Treadwear
89%
90%
Overall Score
89%
90%
Treadwear Warranty
6 Years / 65,000 miles
(V and W speed Ratings)7 Years / 75,000 miles
(H speed ratings)
6 Years / 80,000 miles
Price Range
$110.96 – $318.99
$106.99 – $261.99
Price
When comparing tires of the same size and characteristics, the Michelin Defender 2 are approximately 14% more expensive than the BF Goodrich Advantage Control.
Conclusion
BF Goodrich is owned by the Michelin Group, and it's clear that both models were designed using similar cutting-edge technologies. Looking at the performance chart, they are neck to neck in every category.
Looking at the performance chart, how similarly they behave, and their treadwear warranties, there isn't a clear winner. It's more a matter of personal taste.
There isn't a significant price difference either; however, if you can afford to pay the extra 14%, you will get a product made by the current top tire manufacturer in the world with some of the same features they offer in their top-notch and more expensive products.
Related articles:
3 Common Problems With BMW Run-Flat Tires
Common BF Goodrich Tire Problems To Be Aware Of